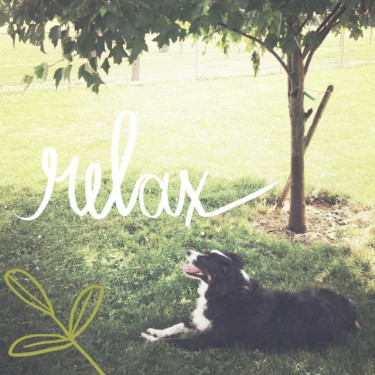 We've been taking Stinky Puppy to the dog park, maybe four times now. She's funny. She refuses to play with other dogs in the way they play, she loves the humans, and her herding instinct definitely exists. She tries to break up the other dogs when they play (she'll "yell" at them) and push them into corners – runs at them. I love it. (I'll have to try to get a video of this next time..)
The other doggy parents think she's nervous and/or there is something wrong, but I was positive from the beginning she was just herding. In fact, I read that this is all normal of "herding style play", but it's obvious to me that the other dog owners don't understand her, which is sort of frustrating.
I think this article on herding dogs and the comments are interesting, seems true to my experience. Poor Stinky Puppy, she finally has a "job", but it's not well received.
(Also, stop commenting on my dog. It's annoying. Is this what future "mommy groups" are going to be like when I have my baby? Eww. If dog parks are any indication of the future and my parenting skills, well, let's just say that I am already out of the "regulars clique" and my dog is a hall monitor. hehe)
Pretty sure the other dogs see her coming and think "oh great, who let the aussie shepherd in?!"