We just got a new couch from Ikea and side table.. and I put up a bunch of pictures on our wall (moved them from the hallway.. needed a change).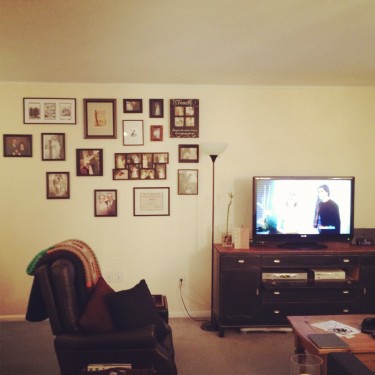 So here's a sneak peak into my new living room/dining room area! It's not perfect but I'm liking it so far.. definitely the closest to my taste that we've ever had! (That lamp doesn't go there, but it blocked the pictures so I temporarily moved it.)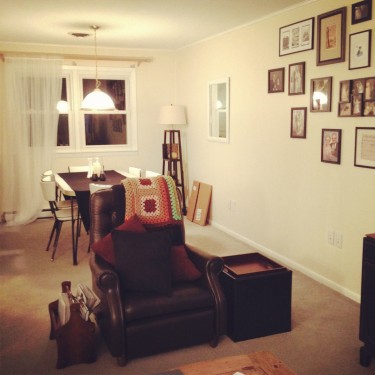 (Uh, ignore that box. I forgot to move it. Stupid Verizon sent us boxes to return our FIOS boxes except we didn't cancel our account. lol Also, I didn't clean up the coffee table. FOR SHAME.)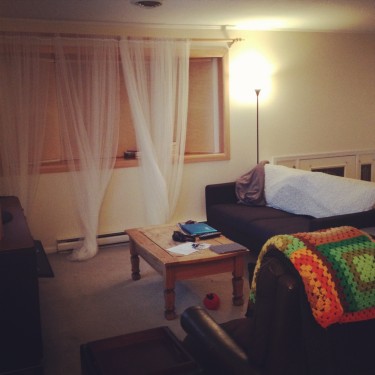 Here are some of my future plans:
– I still want to get a new coffee table.
– We need more color.. yellow and orange throw pillows?
– I'd love to get real curtains to go along with the sheers.. gray or yellow, depends, maybe with a pattern?
I haven't found anything that I've liked yet or that is affordable, but I don't know if you guys know this.. you can use table cloths as curtain panels and put them up with these clip things you can get at Target. You don't have to make any holes and the table cloths already have a hem and they generally come in really close-to-curtain sizes, so no changes need to be made.
Also, one little other tip for you – these things are so awesome. Command makes these little velcro picture hanging strip things. You put one end on the picture, the other on the wall, and it makes picture hanging so incredibly easy. The only problem is some of the frames are too thin to use it on, but most of mine worked with it just fine.
I used push pins for the others – does anyone else stick push pins in the wall all the time – for light stuff – instead of nails because you're super lazy? haha