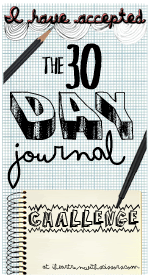 The first prompt was: Create a full page design introducing yourself. Highlight your name many times in the midst of your design.
I finished yesterday's prompt today because it took me an insane amount of time to do. I should be embarassed at how long it takes me to doodle, haha.
I'm pretty happy with it except for the bird. I'm annoyed that I colored it in, because it looked better uncolored. I think I want to take the bottom left-hand corner, from the arrows to the x's and create something with that, like a painting. That's my favorite part. Also, I tried to make it look like the bubbles turned into raindrops and hearts, and then hearts into birds. Did it work?