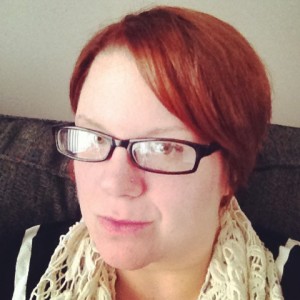 So, the whole "give me a number and I'll tell you facts about me" thing has been going around Facebook.. and since I actually have (more important) things to write about, it's clearly time to do this post instead!
1. When I was little, I made up a language called "Sponge", where every word was sponge – Sponge sponge sponge, sponge sponge! Sponge!
2. Some of my dream jobs: anthropologist, neuroscientist, librarian, working in a theater (not sure exactly what part), working for a non-profit, Andrew Zimmern's job on Bizarre Foods – exploring cultures through eating food!
Ooo.. ooorrrr being a member of SG-1 on the tv show Stargate SG-1 – yes, that's right, my dream job literally doesn't exist. It's literally unattainable.
3. I met my husband online on a small diary site (before blogging was a thing!).
4. I currently have red hair, and it's going to be redder because I just ordered some Manic Panic in vampire red to add to my conditioner.
5. I understand other people's perspectives really easily, and that comes with good and bad: indecisiveness, not knowing what I think, easily forgiving, not jumping to conclusions easily, sympathizing with the criminal, simultaneously holding bits and pieces of different views.. among other things.
6. In elementary school, we'd arm wrestle at recess and I could beat everyone (including the boys)!
7. To me, vacation means someplace new and exploration – I could never have a cabin or beachhouse or anything like that, where'd you revisit the same place every year and just "relax". Sounds boring!
8. My reading goal this year is 175 books and I'm pretty much on target!
9. My favorite books: Never Let Me Go by Kazuo Ishiguro, Speaker for the Dead by Orson Scott Card.
10. When I was around 11, I got an award for this poem I wrote:
Innocence

The battlecry of freedom,
Oppressive cries of rage–
Longing for the life they miss,
Trapped in a timeless cage.

Family and friends taken away,
Never to experience peace.
Hunger, weak and dying,
Their will to live has ever ceased.

The few are left to wonder why,
They are the ones to pay.
What did they do to deserve
This path without a way?

"You don't fit in!
You're not the same!
You'll work and slave,
Your life no gain!"

Why are they different,
With teary eyes they cry!
The love and hope they barely know
Is gone and they must die.

So, your turn, tell me.. three random facts about you.